We are very lucky to be on board with Turkish Airline for our flight to Amsterdam as the ticket is really worth it (~RM3000), and we also met the requirement to get a free tour in Istanbul!
Basically you need to fulfill two requirement for this offer:
1.You need to make sure that you have an international transit flight through Istanbul with Turkish Airlines.
2.Your layover must be at least 6 hours. (Max. 24 hours)
Once qualified, you may either choose to get a free accommodation OR a free tour organize by Turkish Airline.
More detail can refer to this website.
Hence for us, we book an accommodation by our self, then took part in the day tour.
We suppose to participate the full day tour which include Golden Horn And Bopshorus Cruise in the morning and continue with Sultanahmet tour after lunch. However, we check in quite late a night earlier hence can only took a separate tour that focus only on Sultanahmet.
The counter to register for the free day tour.
Our tour started with lunch at Tamara restaurant serving very local Turkish cuisine. We have a choice to choose either Chicken or Lamb kebab, along with traditional Turkish bread, soup, and dessert. The portion was huge and delicious too, except the dessert is really too sweet for me. Good start for us before start of our Sultanahmet tour.
Street view along Tamara restaurant.
Traditional Turkish cuisine appetizer.
Lamb and chicken kebab set.
This dessert was just too sweet, I have to skip this....
Great color combination of orange and pomegranate.
Very nice turkish lighting shop.
Exterior of Tamara restaurant.
Once the team is assemble, our tour guide walk us through few streets and we are in the historical Hippodrome of Constantinople, which was a circus that was the sporting and social centre of Constantinople, capital of the Byzantine Empire. Few interesting monument are located here, include Walled Obelisk, Serpent Columns, and Obelisk of Theodosius.
Gear up the audio device.
Blue Mosque can be seen from afar during the walk.
Unique building structure.
Colorful building we bypass during the walk.
Here it is, Hippodrome of Constantinople.
Walled Obelisk monument.
Another view of Walled Obelisk.
The Serpent Column, the top was adorned with a golden bowl supported by three serpent heads, although it appears that this was never brought to Constantinople.
The Obelisk of Theodosius.
I found this monument the most interesting one among the three.
The emperor and his court (south face).
Very classic Egyptian symbol crafted in the monument.
One side of Istanbul's Obelisk of Theodosius.
Next our guide re-assemble us and guide us into the famous Blue Mosque, or Sultan Ahmed Mosque with 6 minarets surrounding the main dome. It was so magnificent from the exterior view, and even more from its interior. The interior of the mosque is crafted with more than 20,000 hand made ceramic tiles, in more than fifty different tulips design. Although it is very crowded inside the mosque, but I can felt the peace and calm seeing many Muslim doing their prayer inside the mosque.
Ready to enter into Blue Mosque.
Magnificent exterior of the Blue Mosque.
Miniature of Blue Mosque.
One of the Minerat.
Follow guide instruction to go in to the mosque.
Beautiful, calm, and peaceful from the inside.
Interior overview of the Blue Mosque.
It was really beautiful from the inside.
Marvelous piece of art.
Natural lighting from the window making it even more amazing.
Side view toward the minerat.
Side view toward the main dome.
The right side exit after visiting the Blue Mosque interior.
We proceed to our next destination by walking pass Sultanahmet Square towards the Hagia Sophia museum. The entrance queue to the museum are having a very long queue, but it seem Turkish Airline tour have the privilege to bypass the queue, so cool!
Hagia Sophia was originally Greek Orthodox Christian patriarchal basilica church, later an imperial mosque, and today a museum. This itself make the interior monument and crafting to be very unique as it consist both the culture of Catholic and Muslim.
Hagia Sophia from Sultanahmet square.
Exterior of Hagia Sophia.
Turkish police wandering around the square.
Hagia Sophia and Blue Mosque.
Monument outside the entrance to Hagia Sophia.
The interior wall.
Interior overview of Hagia Sophia.
A shot toward the roof top.
Mixture of Catholic and Muslim culture.
Lighting and the wall.
The museum are in heavy maintenance during our visit.
Exterior view from Hagia Sophia.
The Comnenus mosaic.
The Empress Zoe mosaic.
Southwestern entrance mosaic.
One of Hagia Sophia minerat.
Another view from Sultanahmet square.
A peak toward Blue Mosque from Sultanahmet square.
Very hot weather, is time for some Turkish ice cream!
Classic Turkish ice cream~
This conclude our day tour organize by Turkish airlines but since we still have time before our next flight hence we calibrated with our tour guide that we are going to arrange our own transport to return to Istanbul Ataturk airport. After checking the direction, we proceed to our next destination, the Grand Bazaar.
The Grand Bazaar in Istanbul is one of the largest and oldest covered markets in the world, with 61 covered streets and over 4,000 shops which attract between 250,000 and 400,000 visitors daily. In 2014, it was listed No.1 among world's most-visited tourist attractions with 91,250,000 annual visitors. The Grand Bazaar at Istanbul is often regarded as one of the first shopping malls of the world.
Walk way toward the Grand Bazaar.
Nuruosmaniye Mosque.
Hybrid with the entrance to Grand Bazaar.
Ying Ying with the entrance to Grand Bazaar.
Hybrid in Grand Bazaar.
CJ inside Grand Bazaar.
Countless of shops inside.
Turkish flag everywhere in the Grand Bazaar.
Beautiful ceramic tableware.
Very funny seller with the team.
The Turkish lighting was the key attraction for me.
I know camera is not allowed, I am sorry....
Coffee break.
Trial of Turkish coffee, not really suit me.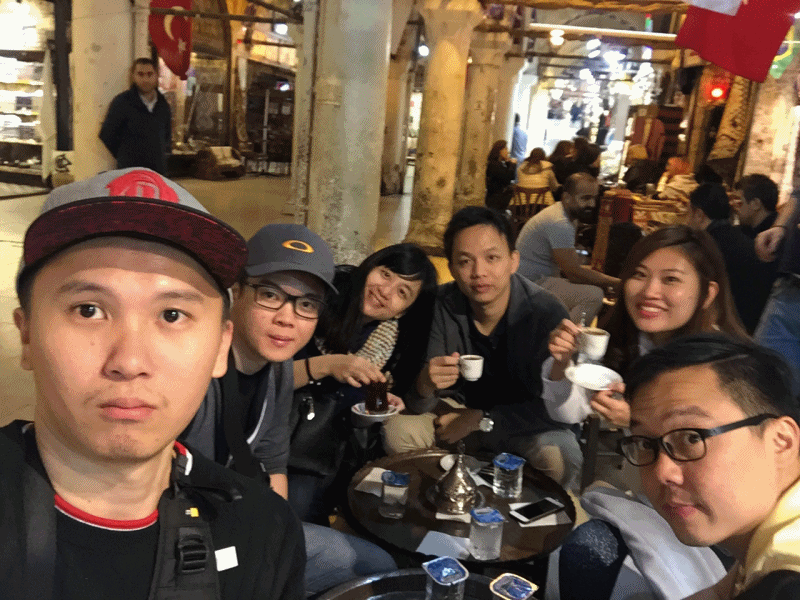 Coffee time~
The sky turning darker.
Additionally, we also tried the traditional Turkish Hammam, a turkish bath of Islamic variant of the Roman bath, steam bath, sauna, or Russian banya, distinguished by a focus on water, as distinct from ambient steam. This was one special experience and make us truly relax and enjoy the massage, the rub making me feel like every piece of dirt on my body had been wiped off, it just feel so good!
We have a walk back to Sultanahmet square again for the night view of Blue Mosque and Hagia Sophia, having a great kebab dinner, and on board tram and train back to Atutark airport to catch our flight back to Malaysia.
Well spend day in Istanbul!
Sneak peek Turkish Hamam session. Photo credited to Hybrid.
Hagia Sophia at night.
Blue Mosque at night.